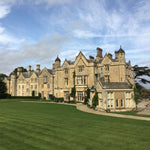 Elle Bee will be kicking off 2020 with an exhibition at one of our very favourite venues, Dumbleton Hall, on the 12th of January.
Doors will open at Midday until 3pm for an open day, where you can come and see the grounds, the beautiful building and meet Sarah and Sarah, the brilliant coordinators from the weddings team.
And of course, we'll be there too alongside a number of other talented local suppliers.
Dumbleton Hall
Dumbleton, Evesham, WR11 7TS
Tel: 01386 881 240
Site: dumbletonhall.co.uk