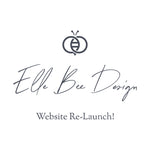 So, as per the title - we have ourselves a brand new website! You may even know that already if it's not your first time stopping by, as things probably look a bit different around here now.
We've been busy researching and building this site in the background over the last six months so it's with a mixture of excitement and trepidation that we put it out in the wild! With over 400+ individual products in the store it's taken a lot of late nights and considerable elbow grease to put together!
So what's changed and why did we change it? Here's a little rundown on why we've changed and what we've done with the new site...
A full ecommerce website
Our previous website was great but it had limitations. Given these limitations the only products we sold on the site were samples and cards, with all invitation and stationery orders being exclusively via a customised quote - we know that this has turned some people off, as they wanted the ability to do their own thing.
We wanted to provide couples with the option of placing all orders directly via a website with all of the configurable options there, ready to be selected, which we now have. We wanted this especially for invitations where there are a number of configuration options - you can now configure your invitation suites within the site and immediately see the impact upon the total cost at-a-glance.
We do understand, however, that the number of options on offer can be quite a lot to take in and this new site is not our way of hiding in the background. We still offer the ability to request a quote, or request an on-site consultation to go through things. The difference now is that quotes will be issued via our website itself which will cut down on our admin time and make orders easier for couples to manage and track.
Whilst not available at launch, we will also be extending the site to cover international shipping and multiple currencies, allowing couples from all four corners of the globe the ability to transact in their local currency.
Luxury invitation revamp
We acquired Bertha - our commercial printer - in late 2018 and, from that point, our digitally-printed designs took centre stage. But we didn't want to do away with our luxury, handmade invitation collections so have now completed revamped them with a more contemporary approach.
These designs are now more unified in terms of the types of invitation style but with a huge amount of customisable options using tactile elements such as ribbon, embellishments and decorative paper. This style of invitation requires a booking which is now included within the configurable options via the site.
Z-Fold Concertina Invitations
Our traditional 4-fold concertina invitations have been amongst our most popular since we launched them. We've now extended that theme further with z-fold concertina invitations that are printed front and back as standard.
On the reverse you'll find many of these have an order of the day timeline and can even have a hand-drawn map added too. This style of concertina allows for a bit more information than the 4-fold version, with a larger detachable RSVP panel making it a lot easier to include menu choices for guests to choose their food.
New Style
Another reason for wanting a new website is that we wanted to freshen up the style of the site and make things a little more grown up. You should find the new site to be more streamlined and easier to navigate, no matter which device you're using.
The Future
We hope you're happy with the new site and find it easier to use all-round. If you notice anything that doesn't appear to be working as it should then please contact us.
From here, we will be hoping to further expand our options with different invitation and stationery styles, new designs, and alike. We now have a suitable home for an ever-expanding inventory and one that we're very proud of.
Laura & Ian
Elle Bee Design